Maryland ADAPT is currently, as we speak, in Annapolis, our state capital, with our newest member Toni Torso (below) talking to legislature. Check out UpittyCrip for live updates through the next 4hrs.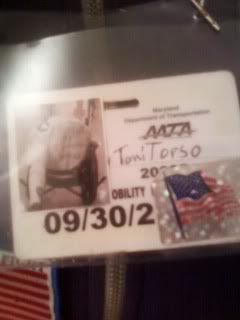 On the left you see Toni, a quintuple amputee, sitting in her manual chair modeling her purple
3elove
zipper hoodie and orange shorts. She is wearing 7 buttons with different disability rights statements.
On the right you see a close up of Toni's MTA Mobility (paratransit) ID. You have to have a photo ID to get into the building of course. Sorry there's glare. The shirt she's wearing in her ID photo (thanks
Texas
) says "DON'T CUT MY SERVICES"
While you wait to see our news coverage, here are some other Medicaid budget cuts news headlines from around the country sent out by
NationalADAPT
through Twitter last night.