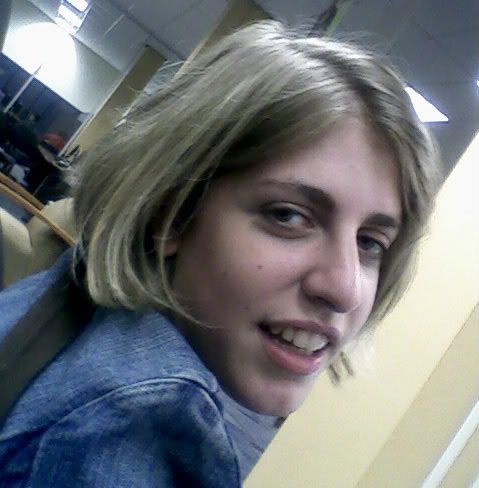 ...seems to be all that I need to fall in love with myself.. For the last few years haircuts have put me in a rather good mood, but this time it seems to be particularly so. I'd been walking around for a month with horrible hair feeling grumpy. It was good when I got it, but 11 weeks is too long to go. I was holding out until after it finished being 90+ degrees every day to chop off my pony tail and bring my hair back to chin length. It's utterly AMAZING how much a great haircut can alter your mood.
I like to give a stylist and approximate length and then let them go. It's just hair. It'll grow back. Well the guy said he was going to give me a "sassy ass bob" and he did (until I washed it and fell asleep with it still wet that is). I got the biggest smile on my face as I watched large chunks of hair falling on my lap, and an even bigger smile when I got to see the final product.

I don't understand it, but no matter who cuts my hair and what kind of cut they decide to do, a new cut seems to make me feel like I can conquer the world and puts some spunk in my step. At 23 I still look like I belong in high school and for some reason I always get delusional and think that the cut has magically made me look my age. Somehow after a cut I actually feel like an adult instead of a kid masquerading as one. I feel like I can actually handle the responsibilities that adults have, and I feel like maybe now I'm attractive to men. I've been dressing better for the last few days, and if I could figure out which purse last had my lip gloss and eye shadow, I'd be putting those on as I rolled over to class. If only this confidence didn't fade as the hair grows out, I'd make leaps and bounds in my emotional development.
I haven't been blogging or reading blogs for weeks. I'm going through a dry spell and a bit of a rough time. If only I'd known that all I needed to snap out of it was a good haircut, I would have gone and gotten one weeks ago! There were some other great things that happened this past week-- some time spent with hippie crips, a friend wanting to set me up on a date, my semiannual botox appointment, and a visit to my personal trainer (and the gorgeous man candy that work with her) right before my haircut -- but the haircut, the haircut just finished me off. It doesn't make the stressful anxiety producing things in my life go away, but I've gotten a bit of a break from those things occupying the front of my mind. I'm hot, I'm spunky, and I'm ready for that date (maybe?), because at least for the time being, I've fallen back in love with myself.